Birthday Boy Austin Hill Scores Xfinity Pole at Talladega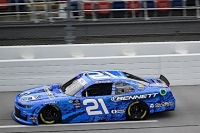 TALLADEGA, AL – RIS – Austin Hill continues to dominate the speed charts in the NASCAR Xfinity Series. He won the pole for Saturday's Xfinity Series race named the Ag-Pro 300. Hill, the sole three-time winner on the season, posted a killer time in the second round of Friday's qualifying session from the 2.66-mile superspeedway, laying down a 49.483-second lap, equivalent to 182.459mph
It was his birthday and Hill posted the quickest time in each of the two qualifying rounds on Friday, leading a laundry list of drivers and teams sporting ECR Engines behind him.
Sheldon Creed, Hill's teammate at Richard Childress Racing, will start on the front row alongside the No. 21, despite posting a time nearly a quarter-second slower than the eventual polesitter. Breaking up the party of Chevrolet Camaros at the front of the field, John Hunter Nemechek qualified his No. 20 Toyota GR Supra in third place for Saturday's 300-mile contest. In fourth, Parker Retzlaff earned a top-five spot for the second consecutive weekend in his No. 31 Chevrolet for Jordan Anderson Racing. Jade Buford, driving a second entry for Big Machine Racing, qualified in fifth.
Anthony Alfredo was sixth, while Justin Allgaier, Jeb Burton, Daniel Hemric, and Brett Moffitt completed the top-10 in the second round of qualifying, which consisted of the quickest 10 drivers from the opening round.
Cole Custer will start Saturday's race from 18th for Stewart-Haas Racing, while Parker Kligerman will start from last-place, after blowing a right-rear tire on his warmup lap. NASCAR gave Big Machine Racing the option to run again, a choice that was turned down by the team.
Qualifying Results: Ag-Pro 300, Talladega Superspeedway
Round 1
Pos, Driver, Car, Time, Speed, -Fastest, -Next
1) Austin Hill, No. 21 Bennett/Realtree Chevrolet, 52.578 sec, 182.129 mph, ---, ---
2) Anthony Alfredo, No. 78 RTIC Chevrolet, 52.693, 181.732, 0.115 sec, 0.115 sec
3) Sheldon Creed, No. 2 Whelen Chevrolet, 52.741, 181.567, 0.163, 0.048
4) Jeb Burton, No. 27 Solid Rock Carriers Chevrolet, 52.867, 181.134, 0.289, 0.126
5) Parker Retzlaff #, No. 31 FUNKAWAY Chevrolet, 52.905, 181.004, 0.327, 0.038
6) John Hunter Nemechek, No. 20 Mobil 1 Toyota, 52.955, 180.833, 0.377, 0.050
7) Daniel Hemric, No. 11 Fission by Cirkul Chevrolet, 52.976, 180.761, 0.398, 0.021
8) Justin Allgaier, No. 7 Fight Hunger Spark Change Chevrolet, 53.001, 180.676, 0.423, 0.025
9) Jade Buford, No. 5 Double Spiked Coolers Chevrolet, 53.050, 180.509, 0.472, 0.049
10) Brett Moffitt, No. 25 AM Technical Solutions Ford, 53.055, 180.492, 0.477, 0.005
11) Chandler Smith #, No. 16 Quick Tie Products Inc. Chevrolet, 53.057, 180.485, 0.479, 0.002
12) Sammy Smith #, No. 18 Pilot Flying J Toyota, 53.076, 180.421, 0.498, 0.019
13) Ryan Truex, No. 19 Toyota Genuine Parts Toyota, 53.088, 180.380, 0.510, 0.012
14) Derek Kraus, No. 10 Leaf Home Water Solutions Chevrolet, 53.141, 180.200, 0.563, 0.053
15) Riley Herbst, No. 98 Monster Energy Ford, 53.185, 180.051, 0.607, 0.044
16) Sam Mayer, No. 1 First Bank of Alabama Chevrolet, 53.216, 179.946, 0.638, 0.031
17) Brennan Poole, No. 6 Macc Door Chevrolet, 53.217, 179.942, 0.639, 0.001
18) Cole Custer, No. 00 Haas Automation Ford, 53.226, 179.912, 0.648, 0.009
19) Jeffrey Earnhardt, No. 44 SouthPoint Bank/ForeverLawn Chevrolet, 53.286, 179.709, 0.708, 0.060
20) Josh Berry, No. 8 Tire Pros Love The Drive Chevrolet, 53.307, 179.639, 0.729, 0.021
21) Brandon Jones, No. 9 Menards/Turtle Wax Chevrolet, 53.315, 179.612, 0.737, 0.008
22) Dexter Stacey, No. 66 ReCap Recovery Drink Chevrolet, 53.375, 179.410, 0.797, 0.060
23) Josh Williams, No. 92 Alloy Employer/Coolray Chevrolet, 53.400, 179.326, 0.822, 0.025
24) Parker Chase, No. 24 Ontivity Toyota, 53.401, 179.322, 0.823, 0.001
25) Joe Graf Jr., No. 38 Getcoverseal.com Ford, 53.403, 179.316, 0.825, 0.002
26) Gray Gaulding, No. 08 Panini NFT Chevrolet, 53.433, 179.215, 0.855, 0.030
27) Kyle Sieg, No. 28 TA Services Ford, 53.436, 179.205, 0.858, 0.003
28) Caesar Bacarella, No. 43 Clear Cryptos Chevrolet, 53.452, 179.151, 0.874, 0.016
29) Garrett Smithley, No. 4 Trophy Tractor Chevrolet, 53.489, 179.027, 0.911, 0.037
30) Kaz Grala, No. 26 CRUSH Strawberry Lemonade Toyota, 53.581, 178.720, 1.003, 0.092
31) Ryan Sieg, No. 39 CMRoofing.com Ford, 53.592, 178.683, 1.014, 0.011
32) CJ McLaughlin, No. 53 SciAps Ford, 53.609, 178.627, 1.031, 0.017
33) Joey Gase, No. 35 LOPA Ford, 53.613, 178.613, 1.035, 0.004
34) Blaine Perkins (OP) #, No. 02 Ollie's Bargain Outlet Chevrolet, 53.631, 178.553, 1.053, 0.018
35) Josh Bilicki (OP), No. 91 Insurance King Chevrolet, 53.727, 178.234, 1.149, 0.096
36) Ryan Ellis (OP), No. 45 Raising Cane's Chicken Fingers Chevrolet, 53.799, 177.996, 1.221, 0.072
37) Jeremy Clements (OP), No. 51 One Stop/All South Electric Chevrolet, 53.816, 177.940, 1.238, 0.017
38) Parker Kligerman (OP), No. 48 Big Machine Racing Spiked Chevrolet, 0.000, 0.000, -----, -----
39) Jason White, No. 13 Buffalo Wild Wings Ford, 53.682, 178.384, 1.104, 53.682
40) Jesse Iwuji, No. 34 Chevy Truck Season Chevrolet, 53.773, 178.082, 1.195, 0.091
41) David Starr, No. 07 Boulevard Chevrolet, 53.797, 178.002, 1.219, 0.024
42) Mike Harmon, No. 74 Save22 Chevrolet, 54.560, 175.513, 1.982, 0.763
(*) Required to qualify on time, (OP) Top 30 in Owner Points, (#) Rookie, (i)Ineligible for driver points in this series
Round 2
Pos, Driver, Car, Time, Speed, -Fastest, -Next
1) Austin Hill, No. 21 Bennett/Realtree Chevrolet, 52.483 sec, 182.459 mph, ---, ---
2) Sheldon Creed, No. 2 Whelen Chevrolet, 52.722, 181.632, 0.239 sec, 0.239 sec
3) John Hunter Nemechek, No. 20 Mobil 1 Toyota, 52.843, 181.216, 0.360, 0.121
4) Parker Retzlaff #, No. 31 FUNKAWAY Chevrolet, 52.877, 181.100, 0.394, 0.034
5) Jade Buford, No. 5 Double Spiked Coolers Chevrolet, 52.902, 181.014, 0.419, 0.025
6) Anthony Alfredo, No. 78 RTIC Chevrolet, 52.922, 180.946, 0.439, 0.020
7) Justin Allgaier, No. 7 Fight Hunger Spark Change Chevrolet, 52.950, 180.850, 0.467, 0.028
8) Jeb Burton, No. 27 Solid Rock Carriers Chevrolet, 52.954, 180.836, 0.471, 0.004
9) Daniel Hemric, No. 11 Fission by Cirkul Chevrolet, 52.999, 180.683, 0.516, 0.045
10) Brett Moffitt, No. 25 AM Technical Solutions Ford, 53.167, 180.112, 0.684, 0.168
Starting Line Up: Ag-Pro 300, Talladega Superspeedway
Pos, Driver, Car, Time, Speed
1) Austin Hill, No. 21 Bennett/Realtree Chevrolet, 52.483 sec, 182.459 mph
2) Sheldon Creed, No. 2 Whelen Chevrolet, 52.722, 181.632
3) John Hunter Nemechek, No. 20 Mobil 1 Toyota, 52.843, 181.216
4) Parker Retzlaff #, No. 31 FUNKAWAY Chevrolet, 52.877, 181.100
5) Jade Buford, No. 5 Double Spiked Coolers Chevrolet, 52.902, 181.014
6) Anthony Alfredo, No. 78 RTIC Chevrolet, 52.922, 180.946
7) Justin Allgaier, No. 7 Fight Hunger Spark Change Chevrolet, 52.950, 180.850
8) Jeb Burton, No. 27 Solid Rock Carriers Chevrolet, 52.954, 180.836
9) Daniel Hemric, No. 11 Fission by Cirkul Chevrolet, 52.999, 180.683
10) Brett Moffitt, No. 25 AM Technical Solutions Ford, 53.167, 180.112
11) Chandler Smith #, No. 16 Quick Tie Products Inc. Chevrolet, 53.057, 180.485
12) Sammy Smith #, No. 18 Pilot Flying J Toyota, 53.076, 180.421
13) Ryan Truex, No. 19 Toyota Genuine Parts Toyota, 53.088, 180.380
14) Derek Kraus, No. 10 Leaf Home Water Solutions Chevrolet, 53.141, 180.200
15) Riley Herbst, No. 98 Monster Energy Ford, 53.185, 180.051
16) Sam Mayer, No. 1 First Bank of Alabama Chevrolet, 53.216, 179.946
17) Brennan Poole, No. 6 Macc Door Chevrolet, 53.217, 179.942
18) Cole Custer, No. 00 Haas Automation Ford, 53.226, 179.912
19) Jeffrey Earnhardt, No. 44 SouthPoint Bank/ForeverLawn Chevrolet, 53.286, 179.709
20) Josh Berry, No. 8 Tire Pros Love The Drive Chevrolet, 53.307, 179.639
21) Brandon Jones, No. 9 Menards/Turtle Wax Chevrolet, 53.315, 179.612
22) Dexter Stacey, No. 66 ReCap Recovery Drink Chevrolet, 53.375, 179.410
23) Josh Williams, No. 92 Alloy Employer/Coolray Chevrolet, 53.400, 179.326
24) Parker Chase, No. 24 Ontivity Toyota, 53.401, 179.322
25) Joe Graf Jr., No. 38 Getcoverseal.com Ford, 53.403, 179.316
26) Gray Gaulding, No. 08 Panini NFT Chevrolet, 53.433, 179.215
27) Kyle Sieg, No. 28 TA Services Ford, 53.436, 179.205
28) Caesar Bacarella, No. 43 Clear Cryptos Chevrolet, 53.452, 179.151
29) Garrett Smithley, No. 4 Trophy Tractor Chevrolet, 53.489, 179.027
30) Kaz Grala, No. 26 CRUSH Strawberry Lemonade Toyota, 53.581, 178.720
31) Ryan Sieg, No. 39 CMRoofing.com Ford, 53.592, 178.683
32) CJ McLaughlin, No. 53 SciAps Ford, 53.609, 178.627
33) Joey Gase, No. 35 LOPA Ford, 53.613, 178.613
34) Blaine Perkins #, No. 02 Ollie's Bargain Outlet Chevrolet, Owner Points
35) Josh Bilicki, No. 91 Insurance King Chevrolet, Owner Points
36) Ryan Ellis, No. 45 Raising Cane's Chicken Fingers Chevrolet, Owner Points
37) Jeremy Clements, No. 51 One Stop/All South Electric Chevrolet, Owner Points
38) Parker Kligerman, No. 48 Big Machine Racing Spiked Chevrolet, Owner Points
(i) Ineligible for driver points in this series, (#) Rookie
Did Not Qualify: No. 13 Jason White,No. 34 Jesse Iwuji,No. 07 David Starr,No. 74 Mike Harmon
Track Race Record: Mark Martin 04/26/97 1:50:32 168.937 mph
Track Qualifying Record: Joe Nemechek 04/26/97 49.484 sec 193.517 mph
Ronald Fleshman
Ron Fleshman and John Davison are Editors at ris-news.com
Read More on Cup / XFINITY / Truck news
Volume 2023, Issue 4, Posted 8:42 PM, 04.21.2023