Ryan Preece to Replace Cole Custer in the No. 41 Ford in 2023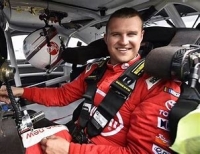 CONCORD, NC – RIS – Ryan Preece was named to replace Cole Custer in the No. 41 Ford in the 2023 NASCAR Cup season. Custer, who has raced in Cup for three seasons, will stay with the team but will drop down to the Xfinity Series and be a teammate to Riley Herbst. Preece spent much of the 2022 season as SHR's simulator test driver and as a stand-by driver. He was instrumental in the team's development of the new Next Gen car.
"This is the opportunity I've been working for," Preece said in a statement released by the team. "Nothing was guaranteed at the start of this year, but I felt like if I put in the time, whether it was in a race car or in a simulator, that SHR was the place for me. It's a company built by racers, for racers, and it's exactly where I want to be."
Preece, 32, won the NASCAR Modified championship in 2013. He has driven a mix of Cup, Xfinity and Truck races and has wins in trucks and Xfinity. He won in the Truck Series at Nashville Superspeedway in June.
"Ryan Preece has been a real asset to our race team this year as we've developed the Next Gen car," said co-owner Tony Stewart in a team release. "The time and effort he's put into our program, combined with his real-world racing experience, earned him this opportunity."
Custer, the son of SHR executive Joe Custer, has driven the No. 41 SHR Ford since 2020. He scored a win in his rookie season at Kentucky Speedway.
"Cole Custer has been a part of SHR since 2017, and we're glad to have him stay with us," Stewart said. "Cole's experience will be invaluable to Riley Herbst as he continues his development in the Xfinity Series."
Ron Fleshman
Ron Fleshman is NASCAR Editor at ris-news.com
Read More on Cup / XFINITY / Truck news
Volume 2022, Issue 11, Posted 10:15 PM, 11.16.2022