Vettel takes second pole in Canada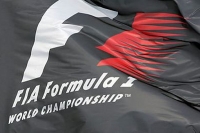 MONTREAL, Canada- After having a relative practice day on Friday, Sebastian Vettel came out swinging to dominate the opening two qualifying sessions and posted a 1:13:784 final lap time to win his second pole of the season. Lewis Hamilton was in second, and Fernando Alonso came third in an improved Ferrari.
"We were clear about the car today and able to improve step by step in qualifying." Said Vettel. "I'm very happy with the result and the laps at the end of qualifying, as we were able to improve each time. It puts us in a great place, but nevertheless tomorrow is more important. We put ourselves in a good position, eight meters ahead of Lewis and then we go from there."
The day in comparision to the previous day of heavy rain, was clear and cool. But Vettel was not waiting for something in the weather, as the World Champion came out in the opening session with the fastest time of 1:14:441. The regular lower qualifying teams placed as usual in their relative spots, but the exception was Toro Rosso driver Jean-Eric Vergne, who finished in 20th and will start Sunday's race behind the Caterham drivers of Vitaly Petrov and Heikki Kovalainen.
In the second session, Vettel topped again, with an improved time of 1: 14:187, while Kimi Raikkonen, and Sauber drivers Kamui Kobyaschi and Sergio Perez failed to qualify. But Felipe Massa went to the final round for the second time this season, while the excitement of the session was William's Pastor Maldonado, who was faster than Vettel as some point- only to over steer and struck the famous "Champion's Wall", spinning on the straight, while ruining a great chance to improve.
Vettel hit his mark in the final session—bringing out the fastest time all day, while Alonso, Mark Webber and Hamilton all tried to overtake the German, but failed as Vettel won his second pole this year, after triumphing in Bahrain back in April. For Webber, it was only good enough for fourth, while Nico Rosberg set a good time at the last minute to take fifth. Massa was content with sixth, while Romain Grosjean got tough and took sixth on his final lap to finish seventh, while Paul Di Resta, Michael Schumacher and Jenson Button all took the last top ten positions.
After suffering from a lack of grip like most of the other drivers, Vettel realized that the weather conditions will again play a factor on Sunday's race in this popular city, when the competition here is anything but boring.
"It's supposed to be hotter tomorrow," he said. "So it's important to get a good start and see what we can do. A lot of things can happen."
Mark Gero
A 12 year veteran writer who has covered race weekends for RIS for three years. Also did the same for motorsport.com.For the last two years, I have been a member of AARWBA.
Read More on Formula 1 news
Volume 2012, Issue 6, Posted 9:58 PM, 06.09.2012